Despite the bitter experience with wrong proofs for FLT, mathematicians trusted Wiles' proof before they read the complete proof. That trust was not just because of Wiles' reputation, but also because this proof used a wide range of tools and ideas developed in the last years by mathematicians all over the world. Trust building steps are more common to politicians than to mathematicians, although Fermat was trusted too, as we learn from the name Fermat's Last Theorem: in the past 350 years it should have been called Fermat's Last Conjecture or Fermat's Last Problem, like other unproven conjectures.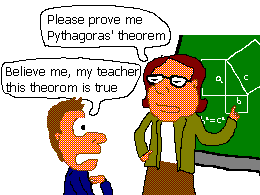 Was the trust given to Wiles exaggerated? While reviewing the proof's manuscript for publication in a mathematical journal, some flaws were found and removed. Even without considering the size of the proof, this is not unusual. However, in December 1993, about half a year after presenting his proof, Wiles admitted, in an e-mail sent to his colleagues, that there was a flaw (found by Nick Katz) in the proof and that he believed he can remove it. As time passed without a fix to that flaw, FLT regained its status as an unsolved problem. Remarkable are the words of André Weil: "To some extent, proving Fermat's theorem is like climbing Everest. If a man wants to climb Everest and falls short of it by 100 yards, he has not climbed Everest" . These words also reflect the change in Wiles' working conditions - in the first seven years he worked on FLT under high secrecy, but since he has presented his proof, everyone was watching him trying to remove the flaw.
In November 1994, about a year after the flaw in the proof has been found, Wiles and his former student Richard Taylor reported that they have successfully completed the proof, by replacing its problematic chapter with one that achieves the same goal in a simpler way. The tactic used by Wiles and Taylor was not new to Wiles - he made a similar attempt some years earlier, but abandoned this way in favor of the way found to be finally wrong. The results of their work, which are a proof to Fermat's Last Theorem, were published in two articles in the May 1995 issue of the journal Annals of Mathematics. The longer article is by Wiles and the other by Wiles and Taylor.
Andrew Wiles, Modular elliptic curves and Fermat's Last Theorem, Annals of Mathematics 141 (1995), 443-551.
Andrew Wiles and Richard Taylor, Ring-theoretic properties of certain Hecke algebras, Annals of Mathematics 141 (1995), 553-572.

If you insist on reading it, here are the papers, with all their 129 pages.