Algorithms of the type required by Hilbert, dealing with simple Diophantine equations, were found by Euclid and by Gauss. Therefore, the attempt to find such a general algorithm seemed reasonable. Nevertheless, in 1970 the Russian mathematician Yuri Matiyasevich, aged 22, proved that such an algorithm could not exist.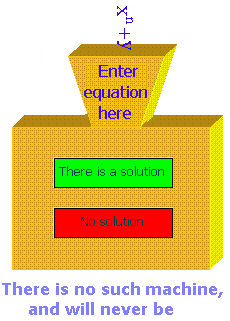 As we learn from our story, mathematical creation evolves not only through step-by-step progress of proving a new theorem from existing ones, but also through far-reaching conjectures, that demand many years of research. Proving a successful conjecture provides a significant breakthrough in mathematical research. Many times, even when the conjecture is disproved, it is still useful because of the new methods used to make it and also because of the meaning of its negation.
In an article published in 1978, Harold Edwards of the University of New York, author of the book Fermat' Last Theorem - A Genetic Introduction to Algebraic Number Theory, wrote: "At the present time, however, the subject of Fermat's last theorem is more or less dormant". That is because any new direction to attack the problem was not found, and the progression in the way formed by Kummer 130 years earlier had ceased. Hundreds of researches broadened the knowledge about FLT, but did not reach a full proof. Absolutely different ways of attacking FLT had started to sprout before Edwards wrote his description, but their potential has been realized years after.
In 1922, a year after the publishing of his book Three Lectures on Fermat's Last Theorem, the British mathematician Louis Mordell made a conjecture that was named, naturally, "Mordell's conjecture". Similarly to Hilbert's tenth problem, Mordell's conjecture does not refer to any specific Diophantine equation, but to Diophantine equations in general. This conjecture is part of the mathematical branch of Algebraic Geometry, and it connects the number of solutions a Diophantine equation has with the shape of the graph of this equation.
In a lecture he gave in 1972, Weil talked with criticism about the chance to prove the conjecture. Here are his words about the conjecture's content: "It would be nice if this were so, and I would rather bet for it than against it. But it is no more than wishful thinking because there is not a shred of evidence for it, and also none against it. In the old days, the word conjecture was reserved (and I suggest that it might still be usefully reserved) for the case when there is some reasonably convincing evidence." However, in 1983 Gerd Faltings, a 29-year-old German mathematician, succeeded to prove Mordell's conjecture (and two other important conjectures). Mordell's conjecture required therefore 69 years to be proved.
André Weil, Two Lectures on Number Theory, Past and Present, L'Enseignement Mathematique, 1974.