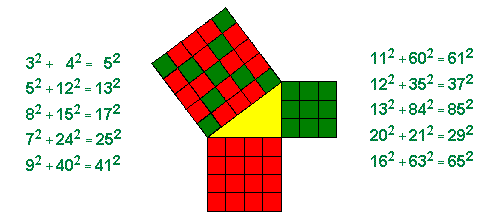 The problem of finding Pythagorean triplets is an example to a type of problems that occupied Diophantus, whom after are named "Diophantine equations". In these equations, the number of unknowns is greater than the number of equations, and the required solution must be in integers only. Diophantus was a Greek mathematician of the third century, who lived in Alexandria (Egypt). Only half of the thirteen volumes of his book Arithmetica survived to present day. Many books of Greek mathematicians suffered a similar fate, and some of them survived only through their translation to Arabic.
Hypatia of Alexandria published, in the beginning of the fifth century, a first commentary to Diophantus' book, but it was lost, like the rest of her writings. Two more commentaries were created, in the thirteenth century, by Byzantines: the theologian Georgius Pachymeres (who also wrote a book about the history of the Byzantine Empire) and the monk Maximus Planudes (better known by his Greek anthology). Byzantine scholars, who fled from Constantinople in the middle of the fifteenth century, brought the book to Western Europe. It wasn't for another 170 years that the book became known to the public, when, in 1621, Claude Bachet published a Latin translation of it. A copy of this book was used by Fermat.
Proceeding from a given problem to a more general one is common practice in mathematics, although finding the right generalization is not so simple. While reading Diophantus' book, Fermat thought about a more general version of the Pythagorean equation, where the power is 3, 4 etc., or, in modern notation, the equation xn+yn=zn. Does this equation have a solution in integers when n is greater than 2? In the margin of the book Fermat wrote that the answer is negative, but, as he said in his above-mentioned remark, he did not supply the proof.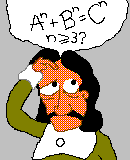 Here is Fermat's remark in his own words, in Latin: "Cubum autem in duos cubos, aut quadrato-quadratum in duos quadrato-quadratos, et generaliter nullam in infinitum ultra quadratum potestatem in duos eiusdem nominis fas est dividere cuius rei demonstrationem mirabilem sane detexi. Hanc marginis exiguitas non caperet".